Corporate Data
ADVANCED TECHNOLOGIES CO.,LTD.
VORT Hakozaki 4th Floor, 20-5, Nihonbashi-hakozaki-cho,
Chuo-ku, Tokyo 103-0015 JAPAN
TEL: +81-3-6661-7669
FAX: +81-3-6661-7769
Paid in Capital
Authorized capital 56,000,000.- Yen
Equity capital 50,000,000.- Yen
Board
| | |
| --- | --- |
| Chairman | Yoshimaro Fujisawa |
| President | Takanori Nakai |
| Director | Hideyoshi Takashima |
| Auditor | Hiroaki Fujita |
History of Company
Advanced Technologies Co., Ltd. (Adtech) was established in December, 1985, for the purpose of providing the Japanese high technology market with the latest technologies in Computer Assisted Engineering (CAE) software, computer program development and consultancy. Adtech was one of the original companies in Japan with this business model, and its successful launch was facilitated by business partnerships with early Finite Element Analysis (FEA) pioneers.

Such relationships were begun with productive discussions occurring during the World Congress on Computational Mechanics held in that time frame.

One early project included a 5-year effort of the development of a Fortran compiler to utilize shared memory of massively parallel supercomputers.

In concert with Dr. Pedro Marcal of Marc Analysis Research, Adtech developed an entry level, non-linear structural analysis program named AMPS that has been marketed and supported in the United States by Dr. Ted Lin.

Simultaneously, Adtech developed marketing, sales and support agreements for handling U. S. based CAE software, including products MARC, UAI/NASTRAN, Electric Magnetic Software, Micro-Electro-Mechanical Systems (MEMS) software, Powertrain Multi-Body Systems (MBS) software and CFRP mechanical properties simulation.

Today, Adtech provides high technology software products marketing, sales and support services to over 200 clients in Japan.
Founder Kiichiro Miyazaki
Adtech was founded by Kiichiro Miyazaki, who graduated in corporation law from Nippon university in 1964 and began his career in technical sales for Nippon Univac. That sales experience led next to a position as general manager of Prime Computer Japan, a subsidiary of Marc Analysis Research Japan; a position he held for 5 years. Mr. Miyazaki then, in 1975, became the general manager of operations for Rockwell International's Electronics Operation covering the Asia-Pacific rim. It was after his experience with Rockwell International that Mr. Miyazaki established Adtech, in concert with close friends and business associates.
Core Technical Competencies
Over the past thirty plus years, the leading edge of advanced technologies in engineering has evolved from CAE and structural engineering to newer technologies such as Microelectromechanical systems (MEMS) and advanced materials technology such as Carbon Fiber Reinforced Plastic (CFRP.) As a result, the nature of the target marketplace for Adtech has evolved from maturing marketplaces to those markets in newer technology. As a result, today Adtech specializes in the following types of technical services and software:
  ● System Programming for MEMS Design and Consulting
  ● Mechanical Design of Powertrain Multi-Body Systems (MBS) for Automobiles
  ● Advanced Composite Material Modeling and Multi-scale Progressive Analysis Support and Consulting
  ● Electro Magnetic Software Engineering Support and Sales
Software Products
Adtech currently markets, sells and supports the following engineering analysis software titles.
Technology
Software Title/Developer
Customers
MEMS
IntelliSuite / IntelliSense
Software Corporation
DENSO, Epson, Pioneer, Ricoh, Seiko, Stanley Electric, Mitsumi Electric, Hamamatsu Photonics, Fujitsu, TOSHIBA and others
Motor & Actuator Design
MagNet / ElecNet;
Infolytica Corp / Mentor (Siemens)
Mitsubishi Electric, Yokokawa Electric, Seiko, Kawasaki Heavy Industries, Jtekt, Hitachi, DMG Mori Seiki and others
Multiscale Progressive Failure Analysis
GENOA MSQ / AlphaSTAR
Corporation
Honda, JAXA, Mazda, Mitsubishi Chemical, Mitsui, Teijin, Toyoda Gosei and others
Power Train MBS Analysis for Automobiles
Contecs Engineering, GMBH
Toyota, Suzuki, Nissan, Mitsubishi, NOK, NTN, Hitachi, Fukoku and others
Recent Consulting Projects
Customer: Kanazawa Institute of Technology
Project Description: mechanical properties analysis and microscopic computer tomography.

It is a technology project which combines mechanical properties analysis and microscopic computer tomography. The advantage of this technology is to directly build the analysis model including material and structure part based on experimental microstructure information for long or short fiber thermoplastics components with complex structure.

    From X-ray micro tomography orientation tensor, we obtain the required
    parameters in the structures for example fiber orientation/waviness,
    fiber/void rate and so on by using AI technology which is developed by
    Kanazawa Institute of Technology. With these parameters, we generate the
    effective consistent material model by using De-homogenized approach
    and proceed the progressive failure analysis (PFA) inter-grade with
    specialized software (GENOA) and commercial FEA code. the performance,
    Damage/Fracture Mechanics in addition the mechanical fatigue life of
    composite can be predicted.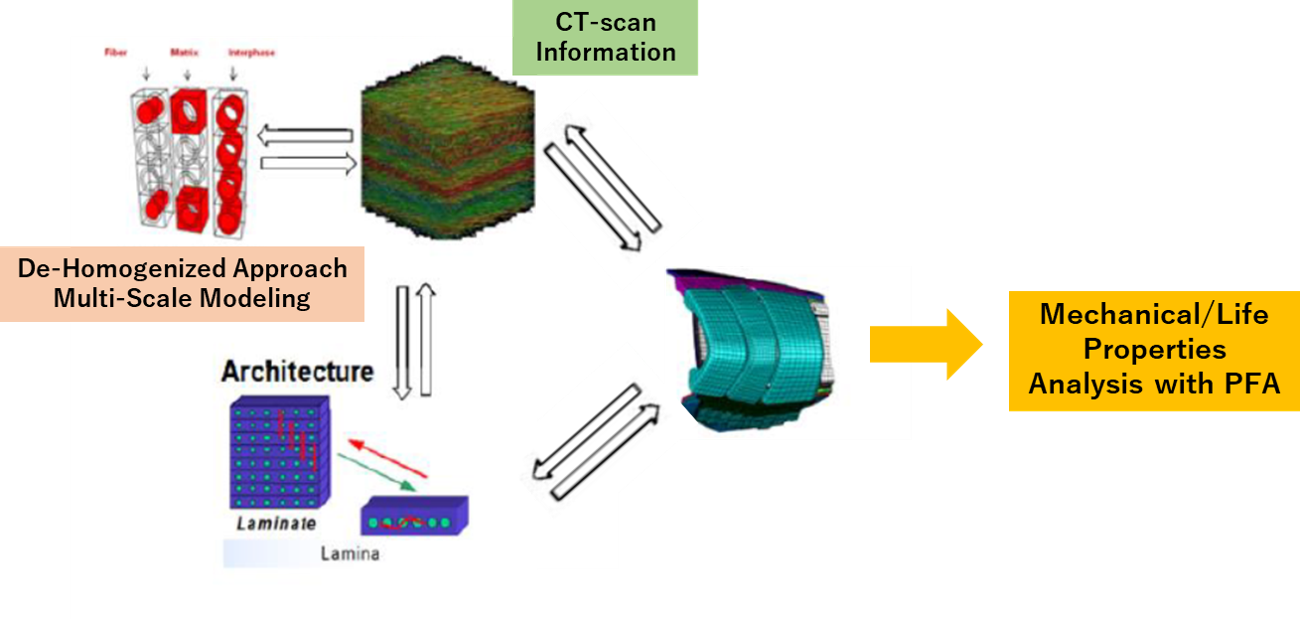 Customer: JAXA (Japanese National Aerospace and Space Agency)
Project Name: Effective Recession Analysis of Ceramic Material Composite
Project Description: Creep resistance and water vapor degradation of CMC gas turbine.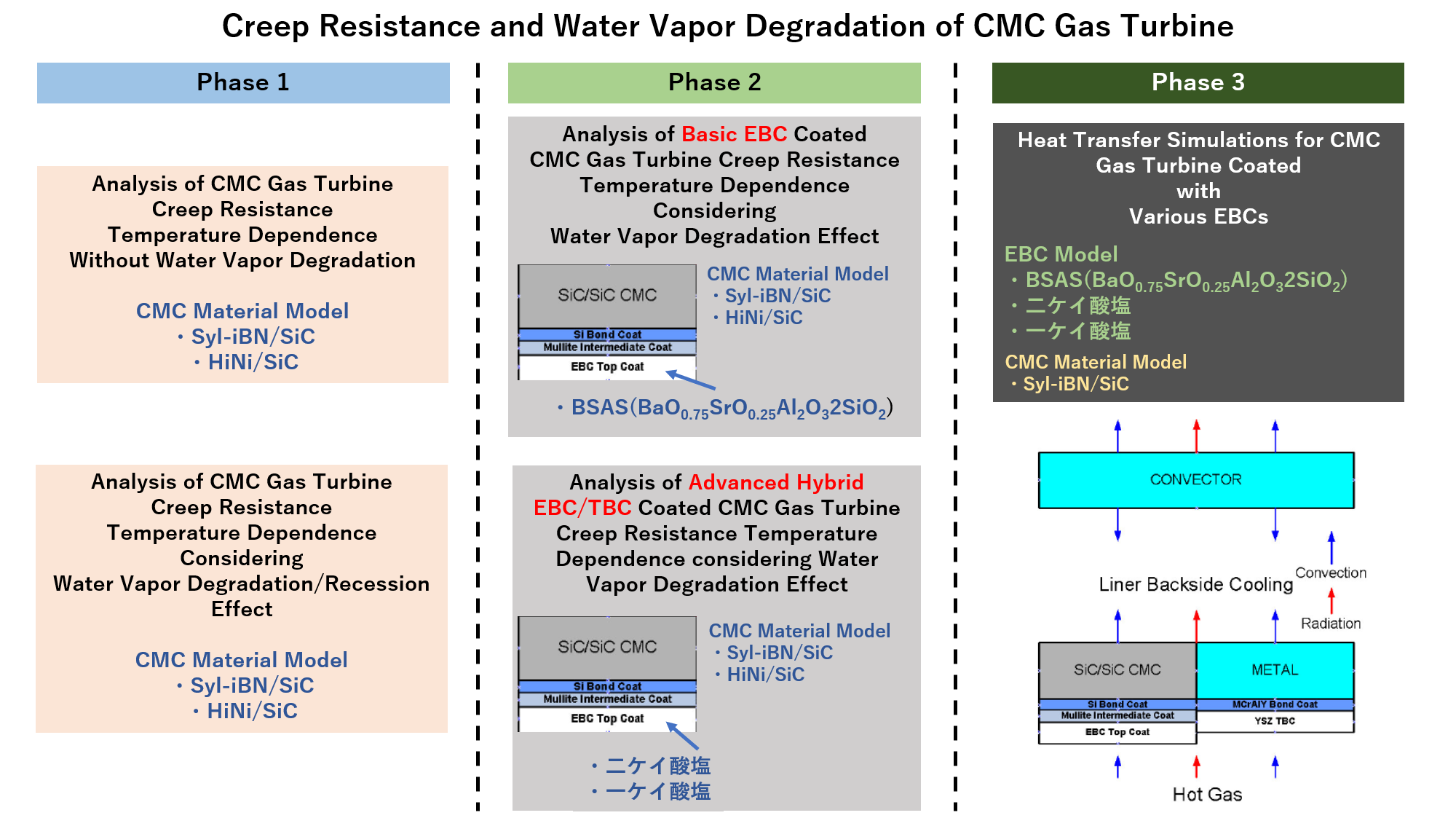 Marketplace Technologies
Since its founding in 1985, Adtech has evolved by continued focus on delivering leading edge technologies to the high technology, industrial marketplace in Japan. Adtech began with a focus on finite element structural analysis technology in the 1980s and 1990s and has expanded to electro-magnetic and multi-disciplinary technologies at the present time.

Most recently, Adtech has developed expertise in Artificial Intelligence (AI), materials technology and multi-disciplinary technologies.

We see continued growth in the future as these newer technologies continue to develop, and Adtech is well positioned to service the Japanese market by delivering both software and consulting services.

We are constantly looking for new software solutions in these technology growth areas, both from a software product sales perspective and a consulting project application perspective.